Boarding house «Yangi-Kurgan»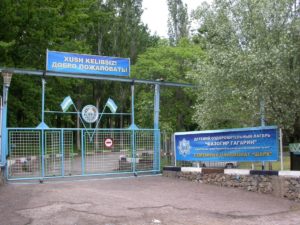 The boarding house functions since 1980.
The boarding house is located at the address: Tashkent area, Bostanlyksky area, village Yangikurgan.
The boarding house opens every year since June and works until the end of August. Each change consists of 10 days and accepts to 100 people. In a summer season 3 cases work. In each apartment there is a drawing room, sleeping, kitchen, shower and a toilet. In the yard 2 pools are built. One is calculated for adults, another for children. Also there is a football, volleyball field and a tennis court. Three single food is provided to vacationers. Near a recreation area the river Say flows. Wishing can bathe there. Also here it is possible to organize a campaign in a cave and on falls. In the boarding house yard there is a lot of greens, trees, flowers. Especially there are a lot of fruit saplings. When the apple-tree, a dried apricots, a pear, sweet cherry keep up, from them cook compotes, juice and as treat vacationers. Almonds and walnuts grow in a garden of boarding house. The main thing here it is possible to breathe fresh mountain air and it is pleasant to have a rest.
According to references it is possible to address in trade-union committee of JSC "Sharq". Phones: 233-71-08, 355-23-45.